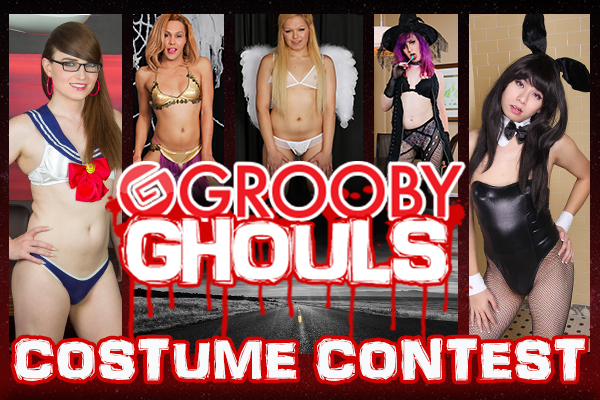 Los Angeles, CA – Grooby is proud to announce their first ever "Grooby Ghouls" Halloween Costume Contest. The competition runs from today until November 4, 2017.
"Year after year, we receive fantastic Halloween photos from our performers and friends, so we thought it was time to turn it into a contest to share with everyone," said Marketing and Editorial Director Kristel Penn. "Our competition is open to everyone and encourage people to be creative!"
The online competition is open to the public (performers, industry, and fans) with the opportunity to win the Grand Prize ($300 Amazon Gift Card) or one of two Runner-Up Prizes ($100 Amazon Gift Cards each). The winners will be announced on November 6, 2017.
To enter, mention @groobydotcom on Twitter and include the hashtag #GroobyGhouls with your entry. Photos can be nude or non-nude and must be Halloween-themed. Additionally, photos can be submitted directly here: http://www.grooby.com/grooby-ghouls. All entries will be posted in a gallery at Grooby.com.
ABOUT GROOBY
Founded in 1996, Grooby is the leading producer of trans erotica. In addition to operating over 30 membership sites, the company produces nearly 50 DVDs a year, and hosts the annual TEAs (Transgender Erotica Awards) held in Hollywood, CA.
In 2017, the company took over the editorial content for Transformation, the world's most popular trans magazine.
For more information, visit Grooby.com.