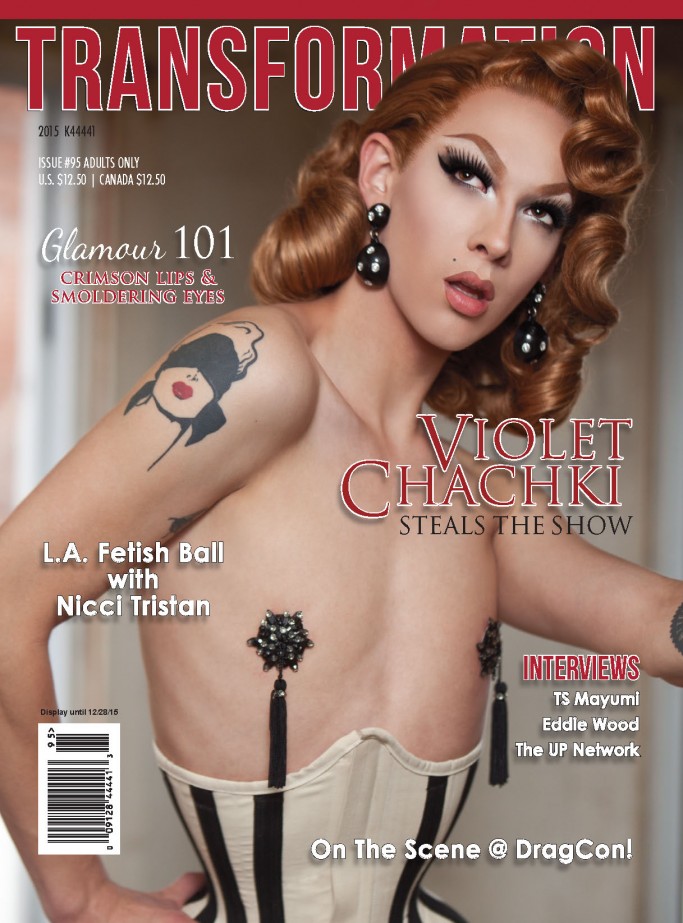 RENO, NV – Transformation Magazine, America's only print magazine dedicated to the transgender and cross-dressing communities, announced its newest issue featuring Violet Chachki today. Drag Race Winner and vintage fetish queen Violet Chachki is featured in an exclusive photo spread shot by Dusti Cunningham and she dishes about what it's like to "Steal the Show." She's young, she's hot, and she's sensational…Her look is distinctly vintage fetish (straight out of a John Willie illustration) but her drive to succeed is what really captivated the editor of Transformation Magazine,
"In just a few short years Violet has perfected the art of drag while simultaneously learning burlesque and aerial silks in order to become an artist who takes performing to a whole new level. And more than that, she has become a style icon for a new generation by combining vintage glamour, haute couture, and unparalleled beauty heavily influenced by the BDSM scene. In many ways Violet also embodies the origins of Transformation magazine which started out by celebrating crossdressers, transvestites, and Tgirls—especially those who enjoyed the fetish aspect of the lifestyle." said Hanna Rodgers, editor-in-chief. "Fashion is something that means many different things to many different people—for some it is like a religion, for others a language, and for a few it is an escape, but no matter what it is for you fashion is all around us and allows us to express as much, or as little, of ourselves as we wish," Rodgers said.
Also in this issue: the L.A. Fetish Ball with latex fantasy girl Nicci Tristan, an interview with TS Mayumi, a profile of The UP Network, plus industry news, regular columnists, reader letters and event listings.  Transformation goes "On The Scene" at DragCon, holds a Transformation 94 release party with Aubrey Kate, teaches a little bit of Glamour 101 and so much more!
Want to find a copy on a newsstand near you? Search by zip code using Where's My Magazine or check out our Google Map of small retailers.
Or order your copy ONLINE now!